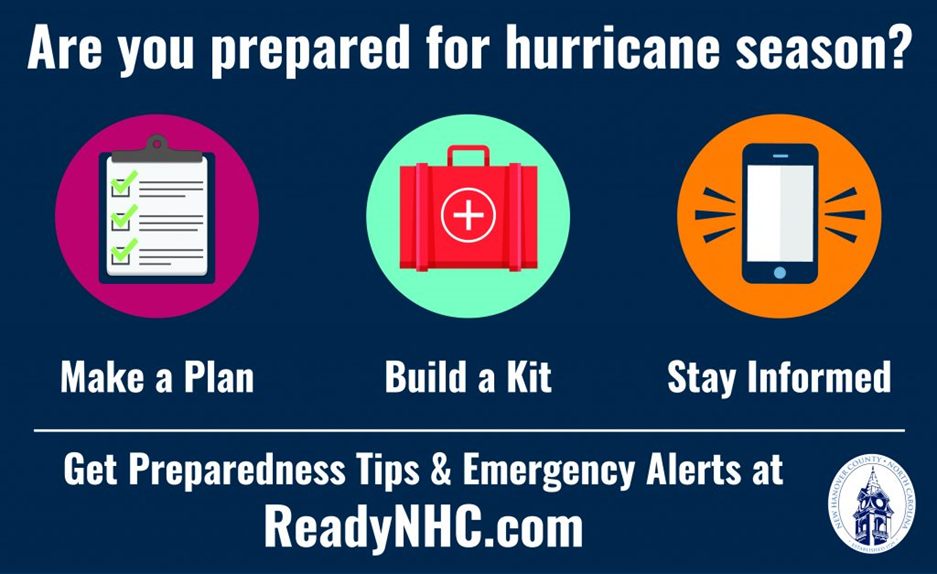 According to statistics from the North Carolina State Climate Office, 84 storms have made direct landfall on the North Carolina coast since 1851, with another 303 storms making landfall elsewhere but still impacting the state. That averages out to 2.26 tropical storms affecting the Tarheel State each year.
Having a plan before, during and after the storm is crucial to keep yourself and your loved ones safe, while working to minimize potential damage to your home and property.
Some of the suggested tips from Emergency Management include:
If possible, relocate inland. While local storm shelters could open depending on the severity of the storm, these facilities should be considered as a last resort and residents should have plans in place to shelter inland with friends or family.
Visit the state's Know Your Zone webpage to view your risk for storm surge flooding from hurricanes. Storm damage and flooding are generally more severe near the coast, so evacuating to the interior of the state is a good practice to be out of harm's way.
Have 72 hours' worth of resources like food, water, prescriptions, toiletries, pet supplies, clothing and other necessities on-hand to use after the storm arrives. There is a strong likelihood that power will be lost and roadways could be undrivable, so having nonperishable items are key.
Start preparing your home now, by trimming trees or having dead or leaning trees removed; and have plans to easily secure your home leading up to a storm, especially windows and doors, as wind and flying debris can cause damage.
Visit ReadyNHC.com to learn about local hazards that could impact our area, register for emergency alerts, sign up for New Hanover County emergency news updates and subscribe to National Weather Service updates so you can remain informed. During an emergency, stay tuned to local media and New Hanover County on Twitter, Facebook, Instagram, and Nextdoor for continuous updates.
"Please remember that every storm is different. A Category 1 hurricane can be just as severe as a Category 5, just in different ways. And while a similar size storm might have done little damage a few years ago, that might not be the case this time," Still said. "No matter what, it's important to be prepared and have a plan to ensure you and your family are safe. And if you have medical, access, or functional needs that would place you at higher risk during an emergency event, we encourage you to sign up for the county's Special Needs Registry so we can make sure you have a plan in place ahead of an emergency."
Residents who live independently and are on oxygen, have a physical disability that would make it difficult to evacuate, or have other medical needs are strongly encouraged to sign up for the Special Needs Registry. Learn more about this resource and how to enroll here.
For more information on how to prepare for hurricane season or to keep up with the latest information from New Hanover County Emergency Management, visit ReadyNHC.com.
Disasters can happen anytime, anywhere, and when disaster strikes, you may not have much time to respond. Depending on the disaster – a hurricane, winter storm, or hazardous material spill – you could be confined to your home without water and electricity for days, or you may be asked to evacuate the area.
Before, during, and after a disaster, local officials and relief volunteers will be working hard to keep people safe. However, they may not be able to reach everyone quickly, so it is important to plan ahead before disaster strikes. Below are some steps you can take to make sure you are prepared for an emergency:
Create an emergency plan, including plans for evacuation or sheltering in place.
COVID-19 and Hurricane Season – Where will you go?
Social distancing and safety measures will reduce the capacity at county storm shelters this year. Identify a safe place to go inland, like a hotel or friend or family member's home safer than your own. Consider ways to safely expand your circle of interaction amid COVID-19, by maintaining social distancing, staying in one space as much as possible and bringing your own amenities like food and bedding.
Build an emergency supply kit with enough supplies for three to seven days for each household member, including pets.
COVID-19 and Hurricane Season – What do you need?
In addition to emergency supplies like food, water, batteries, medications, pet supplies, important documents and other needs, add items like face coverings, hand sanitizer and cleaning supplies like bleach wipes to kits this year. Your emergency kit should include enough supplies for five to seven days.
Stay informed before, during, and after an emergency event.